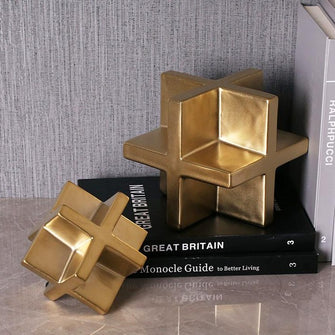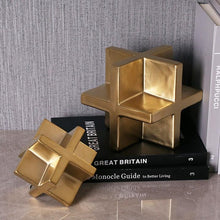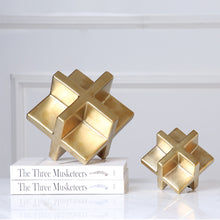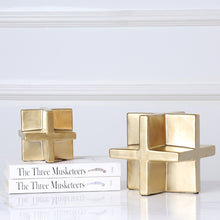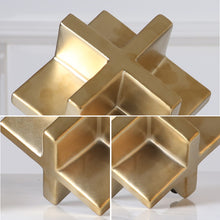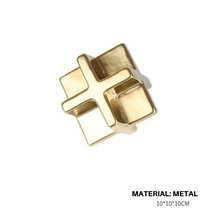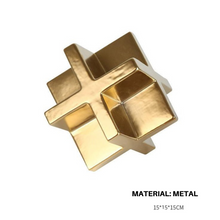 Gold Plated Plus Sign Decor
DESCRIPTION :  Introducing our exquisite Gold Plated Plus Sign Decor, a captivating addition to elevate your living space or office with elegance and sophistication. Crafted with precision and attention to detail, this stunning piece of art is designed to effortlessly enhance any interior décor. Product Features: High-Quality Material: Our Gold...
DESCRIPTION : 
Introducing our exquisite Gold Plated Plus Sign Decor, a captivating addition to elevate your living space or office with elegance and sophistication. Crafted with precision and attention to detail, this stunning piece of art is designed to effortlessly enhance any interior décor.
Product Features:
High-Quality Material: Our Gold Plated Plus Sign Decor is meticulously crafted using premium materials to ensure durability and longevity. The base material is typically a sturdy metal, such as brass or stainless steel, which is then expertly coated with a lustrous layer of gold plating. This combination guarantees a luxurious and opulent look.

Elegant Design: The plus sign symbolizes positivity, balance, and harmony. Our Gold Plated Plus Sign Decor showcases a sleek and minimalist design that blends seamlessly into any decorative style. Its clean lines and timeless appeal make it a versatile piece that complements both contemporary and traditional settings.

Gold Plating: The surface of the plus sign is skillfully plated with a layer of radiant gold. This gold plating enhances its visual allure, creating a captivating centerpiece that catches the eye and exudes a sense of luxury. The gold finish adds warmth and glamour to any room, elevating the overall aesthetic.

Versatile Placement: This Gold Plated Plus Sign Decor is perfect for various placements. Whether you choose to display it on a mantelpiece, shelf, coffee table, or as a wall hanging, it will effortlessly become a focal point in your space. Its compact size ensures easy integration into any room, making it an ideal choice for both small and large areas.

Thoughtful Gift: Looking for a memorable gift for a loved one or a special occasion? Our Gold Plated Plus Sign Decor makes a thoughtful and unique present. Whether it's for a housewarming, wedding, anniversary, or birthday, this elegant piece adds a touch of luxury to the recipient's space, creating a lasting impression.

Easy Maintenance: To maintain the brilliance of the Gold Plated Plus Sign Decor, simply wipe it gently with a soft, dry cloth to remove any dust or fingerprints. Avoid using abrasive cleaners or solvents, as they may damage the gold plating. With minimal care, this decor item will retain its shine for years to come.
Elevate your living space with the captivating allure of our Gold Plated Plus Sign Decor. Its sophisticated design, exquisite craftsmanship, and radiant gold plating make it a true statement piece that brings both style and positivity to your surroundings.
DIMENSIONS: LARGE/ 15 * 15 * 15cm, SMALL/ 10 * 10 * 10cm
Material type: Metal
Style: light luxury
Process: electroplating
Origin: Shenzhen
Packaging: Triple layering of bubble-wrap and safely packed in a box.
FEATURES
High Quality
Astonishing Design
Fine Workmanship
Elegant Look
We strive hard to provide you with better products and superior service. We know how eagerly you wait for your order to reach your doorsteps, which is why we work to make the delivery faster, smoother and better. 
Your product will be delivered within 15 - 21 days after the placement of order. Since all our products are shipped from an international location, it takes somewhere between 15 - 21 days to reach your doorstep. We make sure you lay your hands on your order as soon as possible. Thus, we dispatch your order from our warehouse as fast as we can. Our only aim is to ensure you are satisfied with your purchase. 
please note : In some cases it may take upto 30 days for delivery . 
For everyone who loves to track every minute detail of their order can do so with the Tracking ID. Note that the tracking ID will only be shared once the order has reached our national warehouse. 

CANCELLATIONS:
Orders cannot be cancelled/altered after 12 hours of placing the order. Once an order is packed/shipped, it cannot be cancelled and will be treated as a return if there is non-acceptance. For COD orders, Decorfur reserves the right to deny future orders.

RETURNS:
Our return policy is applicable within 1 days from receipt of the product and applicable only for the following reasons: Damaged product, genuine manufacturing defect & incorrect product. The time frame starts from the date the product was delivered as per the confirmation received from our logistics team or courier partners.
NOTE : WITHOUT A PRODUCT UNBOXING VIDEO ,THE RETURN WILL NOT BE ELIGIBLE. THIS IS TO ENSURE TRUST BETWEEN BOTH PARTIES.
Drop a mail with proper details of your concern at support@decor-fur.com or ring us at +91 9650098689.
1. How do I get more information about an item before I place my order? What if I want to see some real images of the products before placing the order?
Our designers are available on whatsapp number +91-9650098689 from 11:00AM to 6:00PM to answer all your queries. Speak with us and get your query solved rightaway!

2. What are the delivery days?
Our delivery days are 21-35 days from the day of order placement since each and every product is being shipped from our international warehouse to our national warehouse in India and then shipped all over India, after a thorough quality check.

3. Where are you based out of? Do you have a physical store?
We are based out of Gurgaon, and currently do not have any physical stores.
4. Can I see the products before I buy them?
It is not possible to share samples of our collection with you. However, we can share real-time images if required on a case-to-case basis.
We are committed to providing premium quality products to our customers. Once you receive your order, you are simply going to love our range for its supreme quality and finish. You can also cross-check reviews for the concerned product on the respective product page on our website before placing an order.
5.What is the origin of the product? Which country?
We manufacture and curate unique home décor products from across the globe including India, Vietnam, China,  Indonesia, Malaysia, Thailand, Philippines and Italy.